Chiropractic Care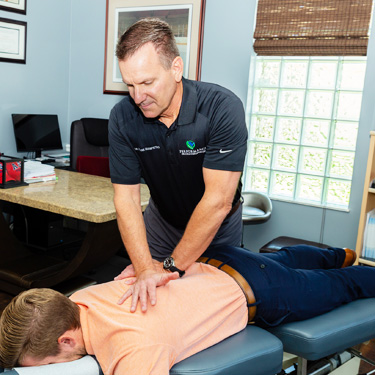 You can experience pain-free living, an improved range of motion, enhanced function, decreased stress and enjoy your normal activities with chiropractic care. If you're an athlete, you may find your coordination has improved and your performance increases.
There is a broad spectrum of conditions that can benefit from chiropractic care:
Low back pain
Neck pain
Headaches
Shoulder pain
Knee pain
Hip pain
Elbow pain
Disc issues
An Array of Techniques to Suit Your Needs
Our chiropractor, Dr. Frank treats the body from head to toe, addressing every part with his many techniques. He uses hands-on methods such as Diversified and Cox Technique, with Cox tables in the office that allow for a gentle adjustment without cracking or popping. Instrument-based adjustments are also available.
Dr. Frank pays close attention to the soft tissues of the body and uses Graston Technique and Active Release Techniques®.
Safe Spinal Decompression
The research completed on spinal decompression shows a high percentage of improvement in individuals suffering from degenerated discs, herniated discs, stenosis and other conditions that are difficult to resolve. With a medically devised protocol, your spinal decompression sessions are effective and designed to be appropriate for your condition.
Powerful Laser Therapy
All lasers are not created equal. Our low-level laser therapy is performed by Dr. Frank, who is certified in the technique. We have the best equipment available and the training to use it properly so that you can feel confident you're getting the care you need.
Additional Physiotherapy Modalities
We also offer ultrasound, electric muscle stimulation, hot packs and cold packs to help your body in the healing process. If we feel that you may benefit from one of these options, we'll discuss our recommendations with you at your first visit.
Contact us today to arrange your appointment! We offer late opening hours.
---
Chiropractic Care Stuart | (772) 286-6260